Gennaro Contaldo's 'Nduja Pesto Bolognese
Ingredients
3 tbsp. extra virgin olive oil
1 garlic clove, peeled & crushed
1 onion, peeled & finely chopped
1 celery stalk, finely chopped
1 carrot, peeled & finely chopped
1 jar Sacla' 'Nduja Pesto
200g minced beef
200g minced pork
200ml red wine
1 400g tin chopped tomatoes
2 tbsp. tomato puree
400ml stock
400g spaghetti
Parmesan & drizzle of oil
Salt & black pepper to taste
Method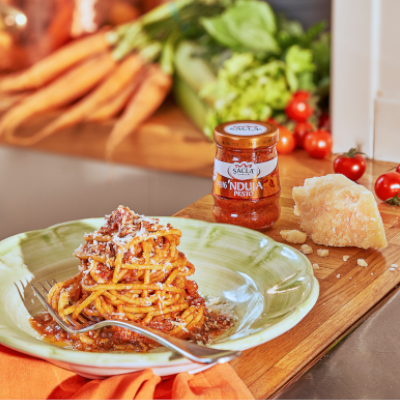 Click on the image above to watch a video of Gennaro creating his delicious 'Nduja Pesto Bolognese recipe.
Heat the oil in a pan. Add the garlic, onion, celery and carrot then sweat on a gentle heat for about 10 minutes until the onion has softened.
Add the meat and brown all over.
Increase the heat then add the wine and allow it to evaporate.
Stir the chopped tomatoes and tomato puree into the meat.
Add the stock.
Reduce the heat to a low temperature and cover with a lid, then cook on a gentle heat for 20 minutes, checking and adding a little extra stock from time to time to avoid the sauce drying out.
During this time, cook the spaghetti and drain.
Stir the Pesto into the ragu and season.
Add the cooked spaghetti to the sauce and serve topped with lots of Parmesan and a drizzle of olive oil.