What do you get when you cross age-old Italian traditions with rolling British pastures? We think you get some of the best charcuterie around. MasterChef champion Dhruv Baker and runner-up Tom Whitaker have been working together since 2014 with one simple philosophy. To make great charcuterie, you start with great pigs. Their mastery of taste and spice and their insistence on only the highest quality of meat leads to a collection of cured meats that we know you'll love.
Italian traditions, British livestock
Tom learnt from the best. He lived in Italy for many years, working under the tutelage of Culatello di Zibello master Massimo Spigarolli – the 'rock star hero of Italy's porcine-passionate throngs', according to the Huffington Post. He soaked up the knowledge of this master craftsman and brought it back to the British Isles.
Tom and Dhruv began sharing a kitchen back in London in 2015. Dhruv grew bored making canapé after canapé, so he started sneaking peeks of the sleek, delicate cuts of ham that Tom was handling. Tom, of course, noticed Dhruv's curiosity – so he asked him to prepare some flavour profiles for the charcuterie. Just for a bit of fun.
That bit of fun grew into experimentation, excitement, and finally a passion for their unique style of charcuterie making.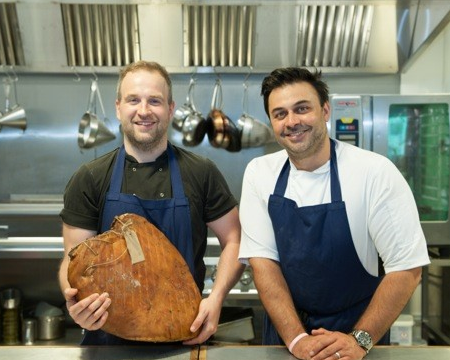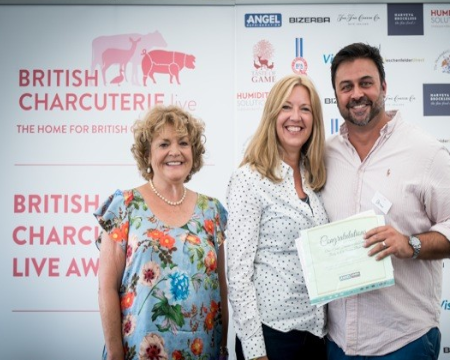 It's all about time
Tempus means time – which just so happens to be Tom and Dhruv's secret ingredient. Unlike most charcuterie makers, they don't select particular breeds of animal. Instead, they're on the lookout for size, lifestyle, and most importantly, age. They work exclusively with 15-year-old dairy cows and ex-breeding sows, all of which come from RSPCA approved and outdoor-reared farms. They believe these animals are perfect for charcuterie.
We think the meats speak for themselves – and as it turns out, we're not the only ones. Within just 6 months of setting up, Tempus won the coveted Best Producer Prize at The British Charcuterie Awards. Since then, they've won many more awards, including Overall Best Product in 2019, and three, two-star Great Taste awards in the same year.
Whole foods
There's a further step for Tom and Dhruv too. Charcuterie making often involves a lot of waste, but Tempus practices likes to work nose to tail. The fact that they are getting the best animals means they can use absolutely every part of those animals in making their products. So there's nothing that goes to waste. And it also means they can give every single piece of meat the time and respect it deserves.