Bruno Barbieri set up home in Voghera in 1977 to begin a new chapter of his life. He had spent the last 20 years in Milan and Cuneo, learning the craft of candying. But he was ready for bigger and better things – he was ready to make a name for himself. With a dedication to the traditional jam and Mostarda of his hometown, and a passion for the sweet, fresh fruits grown nearby on the hills of Lombardy, Bruno founded Pianetta di Barbieri. Almost overnight, they became renowned across Italy for their jam – combining centuries of traditions to preserve all the flavours of the natural world around them.
Family secrets
The secret to Barbieri jam is closely guarded, and has been passed down through the family over the last forty years. It's a mixture of the old and the new, with each generation adding cutting-edge, modern techniques to augment the same centuries-old process. From Bruno, to his son Marco, and then to his nephew – another Bruno – a lot has changed, but even more has stayed the same. And one thing the Barbieri family will absolutely never compromise on is quality. They may have swapped their old cast-iron pots for cleaner metal equipment, but they still check every step – from the fruit selection to the final packaging – by hand, to ensure everything they produce will make the family proud.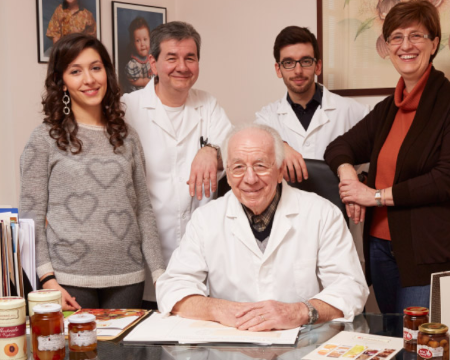 The Mostarda of Voghera
Voghera may seem like an unassuming town in the Alpine foothills, but there's a reason Bruno returned there to begin making his jam and Mostarda. As far back as the fourteenth century, the town was renowned for the candied fruit it produced – products much in demand on the dining tables of royalty across Europe. The tradition has flown down through the ages, and its significance was marked in 2005 when the Mostarda di Voghera was awarded a D.C.O (Denominazione Comunale di Origine) to mark its historic and traditional importance. The Barbieri family are the only ones left upholding the tradition in Voghera – where you can still sense that sweet, fresh smell of candying fruit that's been there for centuries.
The freshest fruit, the finest ingredients
"We should always remember that fruit is a living product. If we handle it with care, the final result is even more satisfying." Bruno Barbieri belief has defined how the family work. They understand the only way to make the best jam is with the best fruit – so, they carefully oversee the fruit selection process. All their produce comes from the sunny slopes of the Lombardian hills, where it soaks up the Italian sunshine and drinks up the fresh mountain rain. That means they use some of the ripest, sweetest, juiciest fruit in all of Italy - which makes their job all that bit easier.