Back in 2001, Martin Kirby and Maggie Whitman and their children left the UK for Spain to follow their dream of getting back to nature. Mother's Garden was born.

Finding the perfect farm in Catalonia's Priorat mountains, they set up their own business creating the freshest possible extra virgin olive oil. Their inspiring story has been the subject of TV shows and books, but it's the fruits of their labour that really caught our attention.

We think more people should get to taste authentic olive oil, straight from the press, so we're proud to be stocking the family company's fresh product.
Farm to table
The popular Arbequina olive variety first came to Catalonia in the seventeenth century. These olives are very aromatic, making a buttery, fruity oil with a peppery finish – but only if the oil is fresh.
And, unless you have your own olive grove, it can't get much fresher than Mother's Garden.
All the olives are harvested from Martin and Maggie's farm or from trees belonging to other local families. They're taken to the village cooperative mill and cold pressed the same day. Each bottle gets stamped with the date it was picked and the date it was bottled, before making its way to you.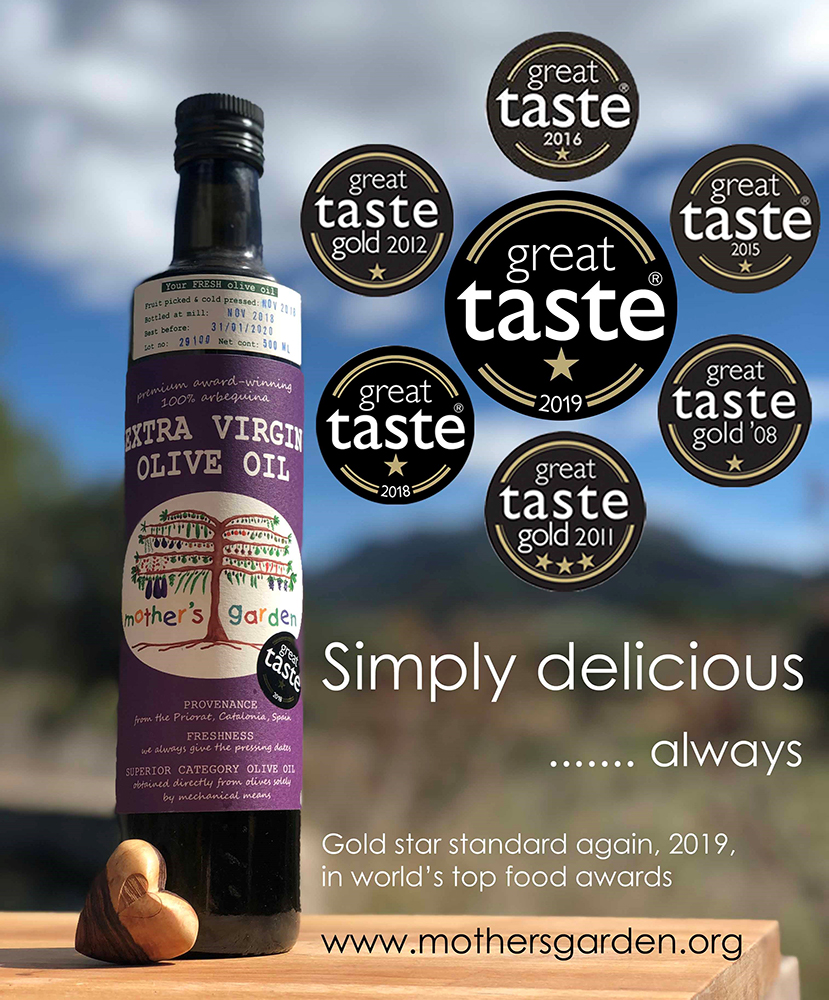 A superfood at the heart of every meal
Martin and Maggie knew they were onto something good when they moved to Spain. But fortunately for the rest of us, they didn't keep it to themselves. They've worked hard to share what they've learned, promote the quality product they produce, and educate people about how to look for good olive oil.
The taste speaks for itself. And plenty of people agree. Mother's Garden has won awards, including gold stars from the Great Taste Awards, and universal acclaim from foodies and cooks, including Delia Smith.
Italians are rightly proud of their olive oil. So why are we so excited about this Spanish product? We found it on our travels and couldn't resist. In fact, many of our whole olives come from Spain, so we know that the quality can be up there with the best that Italy has to offer.