We believe every home is all the richer when there's a pot of something Italian simmering away on the hob. There are other ways to enhance the atmosphere around the house too. Products that add elegance. Fragrance. Beauty.

Casa Zilli is the embodiment of that casual Italian home style.
Everyday elegance
Aldo Zilli has been a Sacla' family friend for years now. When he and his glamorous wife Nikki told us they were creating a new homeware range we were keen to feature the products on our website.
At the heart of the lineup is their range of scented candles. The couple were inspired by their delightful herb garden in rural Surrey. But there's more to the story than that…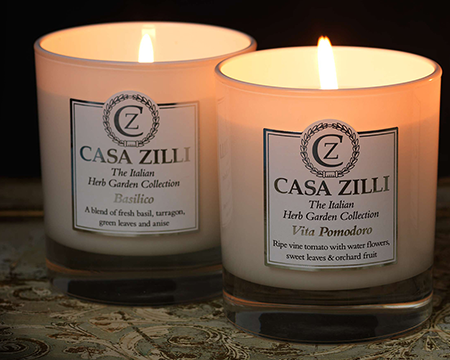 Kitchen essentials
As you can imagine, Aldo is always rustling something up in the kitchen. While no one would complain about having a famous Italian chef around the house, the aromas of yesterday's cooking (especially fish) can get a bit much. Nikki solved this problem with a long burning range of candles to eliminate kitchen odours.
Her creativity, alongside Aldo's knowledge of flavours, has combined to make a unique range based on classic Italian aromas, whether it's rosemary to help Aldo concentrate while writing and juggling endless projects, basil to keep lovers close and insects away, or tomato to evoke the joys of summer even through the darkest of winter nights.

An expanding collection
Of course, candles alone don't make a home. Aldo's favourite pasta is chitarra, the traditional shape of his home region, Abruzzo. So he commissioned the Chitarra cutter to turn homemade dough into a long spaghetti-like pasta, to serve with a rich ragu. Casa Zilli's authentic beech wood kitchen gadget makes two different widths of pasta. Just like Aldo remembers from his childhood.
Aldo runs at 100mph so we can expect big things to come. He and Nikki have ambitious plans for their range. We've seen some of the other products in the works, and we just know they'll add joy to your home – with just a touch of the Italian.